MacBook users are spoilt for choice when it comes to computer accessories. But if there's one thing that you should get, that would be a MacBook sleeve. It does a great job of minimizing the amount of dirt that your laptop comes into contact with and can even protect against minor bumps and knocks.
 When looking for a sleeve, you want to consider various factors beyond the appearance and price. Don't settle for anything less than the perfect size, material, and enclosure. Otherwise, the sleeve, no matter how expensive it is—won't be worth it. Here are the reasons why the right MacBook sleeve matters.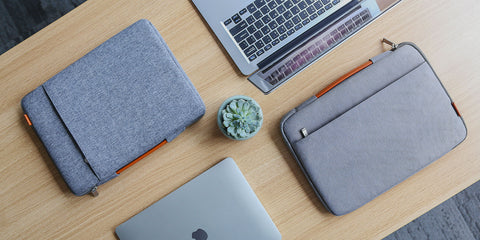 The right size 
How well the sleeve fits will determine the level of protection, it offers. Don't pick a sleeve that is bigger than the size of your MacBook because if there's room for your laptop to move inside, the sleeve won't be able to sustain an impact well. Your MacBook may still get scratches and dents. What you should buy is a MacBook sleeve that fits snugly. Make sure to keep in mind your MacBook's exact dimensions when selecting a sleeve. 
The right material 
The fabric or material is another important factor that will determine how well the sleeve can protect your MacBook. The choices are wide and varied. There are available in different textures and colors to choose from. It makes sense to do some research about the benefits of the sleeve material before buying it to determine if it can truly protect your device against shock, dust, water, etc. The ideal material is lightweight yet thick enough to provide excellent impact absorption. 
The right enclosure 
The enclosure is critical because it is the part of the sleeve that secures your MacBook while you are moving. Without a proper enclosure, your laptop can fall out accidentally while you are taking it out from your bag. Most sleeves have zipper enclosures. Others have Velcro so you can open and close the sleeve more quickly. The important thing is to check if the enclosure will keep your MacBook from falling out.  
The right features
 Do you want your MacBook sleeve to work double duty? Then look for added features like are compartments and pockets where you can keep your chargers, pens, and other stuff.